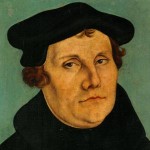 500 Years of Reformation (1517-2017)
Tour Dates: Monday, May 8-Thursday, May 18, 2017
Dr. Michael Thomas, Concordia University
Join this 11-day tour through Lutherland including tours of Eisenach, Wartburg Castle, Erfurt, and Eisleben, his birthplace.  We'll continue to Wittenberg, where Luther nailed his 95 Theses to the door of Castle Church in 1517, thus sparking the Reformation.  We'll visit Berlin where you'll be free to explore.  Visit Leipzig and attend a Bach concert before traveling on to Nuremberg and Augsburg.  Our last day in Deutschland will be spent in Munich!  See detailed itinerary for more information on locales and sites.  This trip is open to everyone (students, alumni, congregational members, et al.) and will be hosted by Dr. Michael Thomas (mithomas@cu-portland.edu).
Tour rate: $3599.  Includes round-trip airfare from PDX, ground transportation, double-occupancy, first class/select hotels, daily breakfast, select dinners, museum and attraction entrance fees, bilingual tour guide, departure fees and taxes, etc.  For more information, visit:  cu-portland.edu/500-year-tour